The Minneapolis restaurant owner who said "Let my building burn. Justice needs to be served"
Issue 161: "We can rebuild a building, but we cannot rebuild a human. The community is still here, and we can work together to rebuild."
Hello! Welcome to Nosh Box, a lunchtime-ish food newsletter.
Read last Friday's dispatch: Would you eat inside a French social-distancing lampshade? (Plus — keep reading for the poll results)
As is probably happening in a city near you, police have been escalating protests around the country following the murder of George Floyd by an officer in Minneapolis.
In New York City, police plowed SUVs into crowds of protesters (watch the video if you have not already) and, in one case, pulled down a protester's Covid-19 mask to spray him with pepper spray (here's the video of that, too). Here in Boston last night, a WGBH reporter said that, after a peaceful protest, a police vehicle drove into a crowd and officers in riot gear came out with clubs. An officer in Seattle was filmed doing the same knee-to-neck pin-down that killed George Floyd. (The mayor of Seattle did point out on Twitter that much of the destruction, there and nationally, was caused by white men co-opting otherwise peaceful protests.) Police in Minneapolis and elsewhere have been arresting, firing tear gas, and shooting rubber bullets directly at reporters and photographers even after they identify themselves as journalists — in some cases, live on air. (Here's a good roundup from Vox of instances of police targeting journalists, which seems to me to be a chilling crackdown on freedom of the press.)
Amid the protests on Thursday night, the Minneapolis restaurant Gandhi Mahal was damaged by fire. (City Pages, the local alt-weekly, describes it as a "ridiculously delicious Indian restaurant.")
In the Washington Post yesterday afternoon, Hafsa Islam, the daughter of the owner of Gandhi Mahal, shared why her family supports the protests.
In an article titled "My family's restaurant caught fire in the Minneapolis protests. Let it burn." she writes:
First: anger. I am angry for my dad, for all he worked for gone up in smoke. When I go to check on him, I see the pain in his face. The collection of local art, the microfarm in the basement, lost in the blaze. He watches the news some, and talks some on the phone, to media and family and friends. Then I overhear him: "Let my building burn. Justice needs to be served. Put those officers in jail."

Suddenly: realization. It becomes clearer to me than ever that the issue at hand is greater than Gandhi Mahal. We can rebuild a building, but we will never reclaim the life George Floyd didn't get to live. For years, protesters tried peace. It didn't work. If this is what it takes to get justice, then it will have been worth it.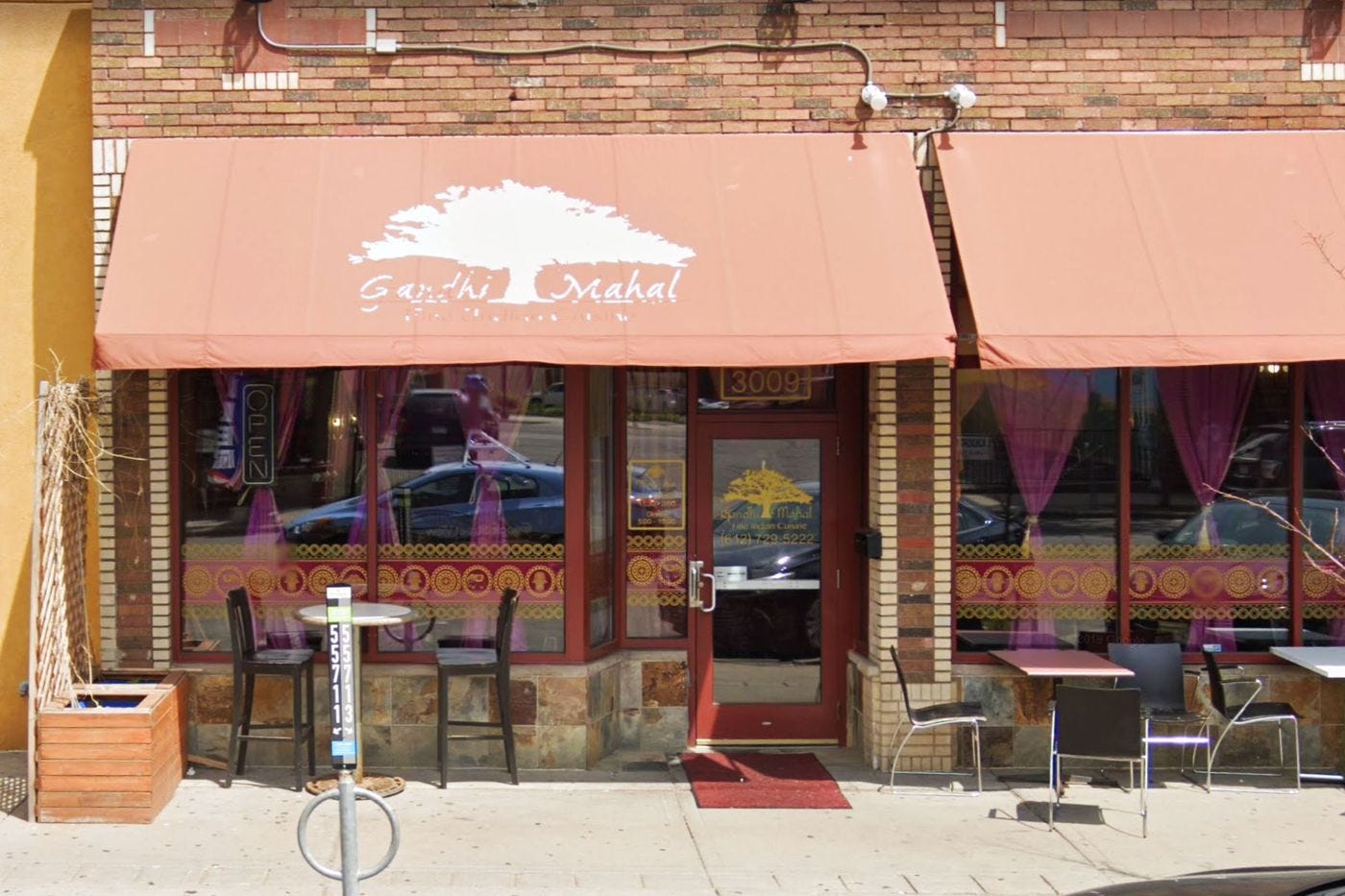 (Gandhi Mahal pre-fire. Photo via Grub Street)
---
In the New York Times last week, Amelia Nierenberg checked in with the owner, Ruhel Islam:
On Friday afternoon, after the fire stopped smoldering and the family came together, he repeated his support for the protests that had closed his restaurant. "We can rebuild a building, but we cannot rebuild a human," said Mr. Islam, 42. "The community is still here, and we can work together to rebuild."
And even before the fire, Gandhi Mahal prioritized the community protesters. The Islam family cleared out a room in the restaurant for medics to turn into a makeshift hospital, to treat protesters wounded by police tear gas and rubber bullets. Meanwhile, they kept cooking to feed those in need.
Here's the owner, Ruhel Islam:
The NYT article continues:
The tension in Mr. Islam's adopted city reminds him of his childhood in Bangladesh, when he lived through a dictatorship. Two of his fellow students were killed by the police, he said. "We grew up in a traumatic police state, so I am familiar with this type of situation," he said.
---
And, as promised, the results from last Friday's poll about whether you'd eat inside a lampshade-esque structure meant to prevent the spread of Covid-19 in restaurants.
It was so close: 53% said yes, and 47% said no.
In the comments, Sydney said:
Why the heck not?!
Ariana said:
I would totally go for it. But I would be prepared for a silent meal — how could you possibly hear your companions? Yet another reason signed languages are superior in this pandemic (the biggest reason is they don't spread the virus like speaking does!).
Cathy said:
I think it would be better if it was a whole table bubble assuming that just families are eating together. I suppose you could choose what kind of lightshade you wanted! As long as the food was good it might be a good alternative to eating at home.
Thanks for voting and weighing in! I'll definitely have more polls and discussions in the future. See you all tomorrow.